Dino Melaye's Alleged kidnap : what Nigerians are saying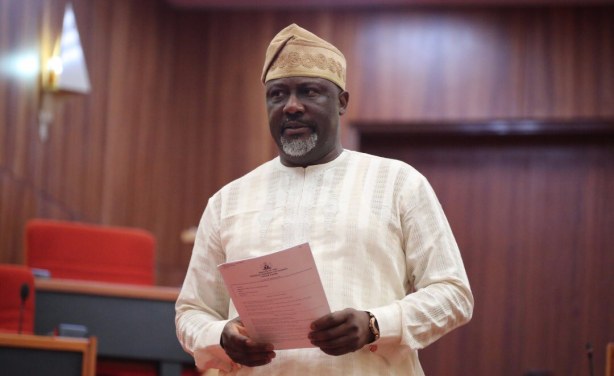 A few hours ago, news broke that Senator Dino Melaye has been abducted.
Senator Ben Bruce who broke the news on his Twitter handle, said the senator was allegedly abducted by unknown persons
"I have just been informed by Moses Melaye, Dino Melaye's brother, that Dino has been abducted by unknown persons in a Toyota Sienna that blocked their car and overpowered them on their way to Kogi to answer to Dino's court case.
"Lets be on the watch out. Will keep you updated'' he tweeted.
As expected Nigerians are lending their voices to the story.
See reactions below
"I wholeheartedly condemn the abduction of @dino_melaye . I implore those that have kidnapped him to return him home safely to his family and loved ones. I urge the Federal Government to do its job and protect the Nigerian people before it is too late."
- @Femi Fani-Kayode (@realFFK)
"lol I just need to know when the full movie is out in the @SilverbCinemas sir"
- @'Debabz (@Debabz_OG)
"Ayo Fayose: Police invaded govt house and tear gassed me
Bukola Saraki: Police invaded my privacy and prevented me from honouring their invitation
Dino Melaye: I was abducted by gunmen on my way to court in Lokoja
Nigerians: Nna ehn this action fim is sweet oh"
- @Lérd Chigbọ ā (@itschigbo)
"Who will rescue Dino Melaye?
This man has been shouting that his life is in danger.
The police ignored him,withdrew his security & APC herdsmen mocked him saying he faked his neckbrace. Did he also fake his own kidnap?!"
- @Miz Cazorla (@MizCazorla1)
"Dino Melaye as one of the actors playing a supporting role in the sit-com' '8th assembly' keeps the audience at large, much more entertained than even the leading character in the show. his performance on set is just so real that can make one start believing in 'make-believes'"
- @The Politicαl Animαl (@BukarYunusa)
"Dino Melaye has been BLOCKED, and Abducted. Who is next on your list ?"
- @Oluyemi Fasipe (@YemieFASH)
"These politicians know our mumu buttons though.
Day 1: Police blocked Saraki from honoring their invitation
Day 2: Youths blocked Gov Ortom from attending a peace meeting in Abuja
DAY 3: Unknown gunmen abducted Dino Melaye and whisked him away
The crowd keeps cheering!!!"
- @Tunde Eneji (@iameneji)
"So Dino Melaye was abducted in broad day light?
We all know those responsible. Everyone opposing this government should prepare for the unthinkable."
- @Adeyanju Deji (@adeyanjudeji)
"Another day, another Dino Melaye headline"
- @Ebuka Obi-Uchendu (@Ebuka)